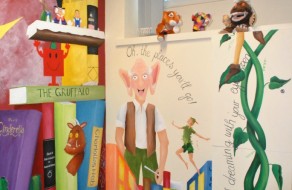 We are absolutely thrilled and delighted with the mural, the children and staff are gobsmacked when they go up and see it! It was a pleasure to have you in school and to quote our Headmistress you are now a dear Allerton School friend! Thanks again Helen! You have made our library an inspiring environment to work in and the children are all so excited to go up and read which was my aim this year! So you have helped me achieve my vision!!
Sarah Badrock, Allerton Primary School, Bradford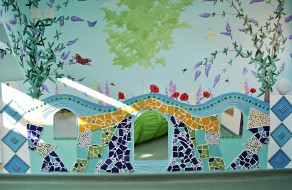 "Helen has the rare ability to juggle the ideas of three different people and weave them into her own perception to create a finished article which is a joy to see. She is also reliable, business-like and realistic in her estimation of time-scales, costs etc. So glad we discovered her."
Barry Clutterbuck, Director, Newpark Childcare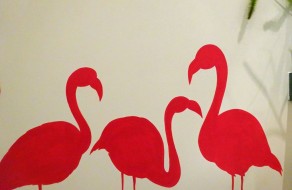 "A massive thanks to Helen for her professionalism and creative talents. We are so happy with our flamingos, they look fantastic and cheer up our bathroom on a cold winter's morning."
Anna and James, Clapham

"Last summer I commissioned Helen to paint some Mural's in my paediatric A&E department .
I found her hardworking and professional throughout. Her murals were excellent with fantastic attention to detail and I would not hesitate to recommend her."
Laura Southerden, Matron, Paediatric A&E, Wexham Park Hospital
"I can't thank Helen enough. She was so reliable, full of great ideas & has turned our little girl's room into a beautiful wonderland that she loves. She's so excited to show her friends & family! Helen was also a pleasure to have around. Her work is inspiring."
Mr and Mrs Nugent, West Byfleet
"Helen painted a wonderful mural for our 5½ year old daughter's bedroom, covering walls, doors & ceiling as well as a rocking chair. She is a well-organised & reliable artist who obviously knows her trade & materials well. Although the room was not going to be ready for almost a year, Helen was happy to visit and provide ideas well in advance. She understood what we wanted, interpreting our specification and ideas professionally, creatively and realistically, bringing much skill to bear in their transfer into an attractive & fascinating design. Although our house remained in the late stages of a rebuilding project, Helen was happy to operate in some fairly basic conditions, coordinating well with our main house painter on those rare occasions when it was needed. Our little girl is delighted with the artwork that Helen created for her bedroom."
Mr and Mrs Sen, Lightwater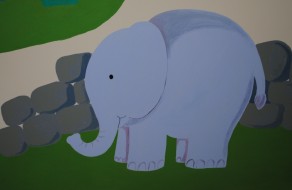 "Kate loves her animals and she is thrilled with having a complete zoo in her room, saying goodnight to each animal and making their nosies every night before bedtime. It's a lovely design and we're all really pleased with the work. Thanks!"
Rachael, Fleet
"Max is sooo pleased with your mural, he shows it off proudly to everyone who comes round and it really makes his room a special (and unique!) place to be. Every time I'm in there reading him a story, I see lovely details in the painting I haven't noticed before. You've really done an amazing job. Thank you again."
Ali, Addlestone
"You have a wonderful talent …We're all really happy with it – the whole family have seen it and everyone is amazed at your talent. You've done a brilliant job and delivered exactly what we discussed only it looks even better on the wall than on email or paper!!!!"
Suzan, New Malden
"Many thanks for a job very well done – the mural looks delightful. I can assure you we will be delighted to use your certain talents again in the near future."
Alan Bentley, CEO, The Childcare Corporation